Table of contents
What is a board portal?

The role of a board portal in board meetings

A crucial function: Facilitate approval of board minutes

What are consent agendas?

Paperless board meeting software benefits

Questions to ask your board portal vendor
What is a board portal
?
A board portal, or board management software, is a centralised, highly secure online hub designed for board administrators and directors to share confidential documents and information and also exercise governance and decision-making responsibilities even when working remotely. It's no longer necessary to print document copies, send emails manually, and physically compile annotations.
Board meeting software provides essential tools for boards and administrators to use before, during, and after board meetings. In this secure environment, users can:
Access meeting materials

Communicate between board members, administrators, and management

Executing compliance and governance responsibilities
The board portal simplifies every step of the board meeting process. By combining new mobile capabilities with cloud technology, new paperless board meeting software replaces the old practice of using paper notes, printed minutes, and emails.
Why does my company need a board portal?
Corporate secretaries had to maintain cumbersome paper board books before online board portals became available. Technology is evolving rapidly, so choose a solution that gives your corporate secretary the tools they need to enable your board.
It is a good idea to have a board portal both for good governance and for the benefits it provides to boards. As well as messaging features, voting tools, meeting minutes, consent agenda creation, and other tools, board portals provide collaboration tools that help make communication as seamless and secure as possible.
Which types of organisations use board portals?
Companies, governments, non-profits, and academic institutions use board portal solutions in all industries and across all types of organisations. Large corporations and highly regulated sectors have historically used board portal software, but today, more small and medium-sized enterprises (SMEs) and nonprofits are adopting it.
Non-profit organisations, oil and energy companies, educational institutions, healthcare providers, financial institutions, and insurance companies use virtual boardroom software globally. Among the reasons for rapid adoption are lower ownership cost, better accessibility, transparency, and the need to comply with data security and regulatory requirements.
According to the latest findings, the current global board portal market will be worth $3,34 billion in 2022.

Most importantly, the projections look exciting as the market is expected to grow to $7,9 billion by 2030.

The following regions will continue to dominate the virtual boardroom market;

North America (Mexico, Canada, and the United States)

Asia Pacific (Vietnam, Malaysia, Philippines, Thailand, Indonesia, Australia, India, Korea, Japan, and China)

Europe (Turkey, Italy, France, United Kingdom, and Germany)

Africa and the Middle East (South Africa, Nigeria, Egypt, UAE, and Saudi Arabia)

South America (Argentina, Brazil, and Columbia)

Source: MarketWatch
The role of the portal in
board meetings
Board portals are designed to remove bottlenecks and redundancies from the board meeting process while adding an additional layer of security. This solution streamlines the three phases of a board meeting — pre-meeting, during the meeting, and post-meeting.
Before the
board meeting
The administrator can organise information, upload minutes, check director availability, and update information dynamically before things get going.
As the date of the meeting nears, reports will be distributed to the board. This information is compiled into an agenda, directors are invited, and the board book is published.
Board members receive the board book and begin reviewing it. In addition to annotating and sharing notes, they can review past meeting materials, reference documents and chat with each other, all within a secure board portal.
During the
board meeting
There should be no surprises or last-minute changes when directors arrive for the board meeting. Keeping the meeting on track is easy with one-tap navigation between sections. A good board portal application lets directors vote, sign documents, assign tasks, set deadlines, and check on questions as they are made.
After the meeting
A notification alerts directors when tasks need to be completed, including eSignatures, voting on open approvals, and responding to surveys. Compliance with governance is ensured by tracking every action, every attendance report, and every upload.
A good board portal solution must combine this workflow with strict security measures and allow the board and management to work efficiently. Here is what you should expect from reliable board portal software:
A crucial function: Facilitate approval of board minutes
A productive and efficient board of directors depends on creating and approving meeting minutes, which is the legal, official record of board meetings. An accurate and extensive record of each meeting must be kept in these minutes. Recording and approving minutes can improve efficiency, speed up decision-making, and prevent miscommunication.
There's a strict routine for creating minutes by board secretaries who listen to the meeting and record accurately what is said and by whom. The following should be included in the meeting minutes:
What was decided

What was accomplished

What was agreed upon
Until the meeting minutes are approved, they are not considered an official record of the meeting. Approval is a critical step that cannot be missed. The secretary's approved minutes version is regarded as the official record.
The creation and approval of meeting minutes is an essential part of board governance. The creation, distribution, and approval of meeting minutes can be simplified with a board portal and integrated meeting minutes software. By creating clear action items, boards can create meeting minutes and collaborate on drafts. Using eSignatures, the board secretary can securely share and approve meeting minutes once they have been finalised.
What are consent agendas?
During board meetings, a consent agenda can be a time-saving tool. It helps ensure well-organised and efficient meetings and streamlines approvals of regular meeting items.
In a consent agenda, everyday meeting items are grouped into one topic for discussion. This allows one motion to be filed instead of multiple motions for the grouped items.
A board portal can enable participants to access all documentation associated with consent agenda items in advance, allowing them to make an informed vote on all grouped items. Before the meeting, the team members should review the documentation so they know what issues will be discussed.
Members of the meeting must have the opportunity to ask questions related to the vote before it is taken. All participants should be able to see the questions and answers.
During the discussion of a consent item, simple questions, clarifications, or short exchanges may be made. To maintain the efficiency of the consent agenda, it is essential not to remove consent items entirely to answer a simple question.
The consent agenda is included in the board meeting agenda on the day. At the start of the meeting, the chair asks the attendees if anyone wants to discuss any items not listed on the consent agenda.
Consent agenda management is best done in the board portal software. This can help you efficiently manage documentation and automate the packet creation and content review process as part of the meeting minutes management.
Top features you should expect to find in a good board portal
In board portals, two sets of tools are available: one for the board members and the other for the administrative staff. A board portal should meet the needs of both administrators and directors throughout the board meeting lifecycle.
Board portal users: Company secretaries and board administrators
The company secretary is usually designated to administer a board portal. On occasion, these can be legal counsels and C-suite executives. The board portal allows them to:
Create meetings

Compile and distribute digital board packs

Initiate electronic signatures

Upload or update documents

Send notifications

Manage portal users and workspaces

Grant document access permissions and system privileges
Board portal users: Directors, CEOs, and executives
The board uses a board portal to receive meeting notifications, meeting agendas, digital board packs, and other related documents. Users can share, review, edit, and comment on these materials.
In addition, directors can securely and officially sign off on board documents using digital signatures. A paperless board portal eliminates the need to print, distribute, and store hard copies.
Board portals for report writers
Speaking of printed board communication, a group of board meeting process participants benefit from a board portal the most. Report writers will instantly notice less burden on their inboxes and the security risks of including sensitive attachments with their emails.
A board portal will seamlessly manage briefings, task deadlines, and version control, all in one place. The feedback on papers between report writers and the company secretary becomes more straightforward, while report writers access the best-practice templates, guidance, and training for more effective reports.
A good board portal will remove the need for hundreds of insecure email communications while serving as a platform to drive the continual improvement of board reports.
The benefits of board portal software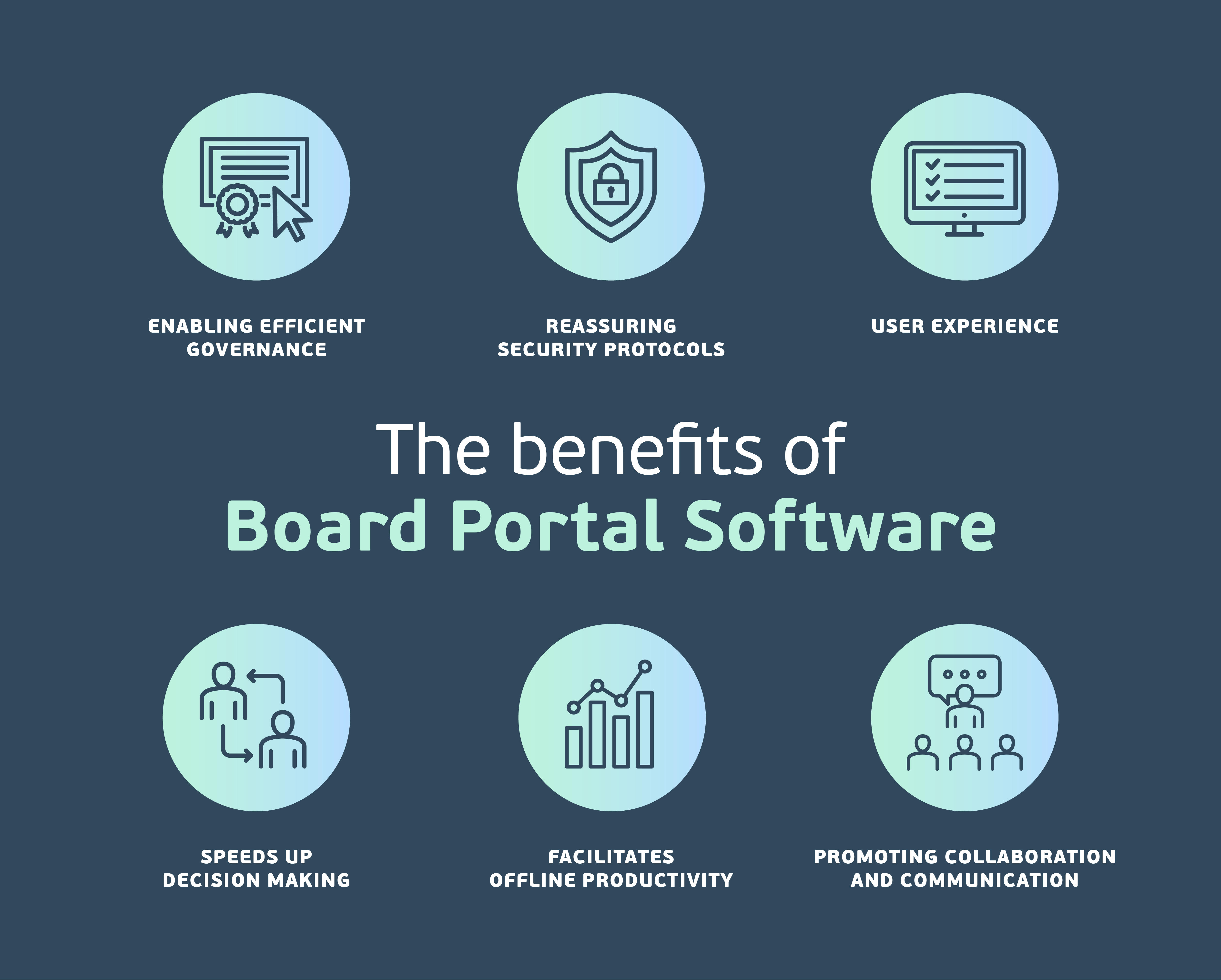 Benefits of paperless board meeting software
An effective board portal can significantly help the company, from reducing material costs to improving corporate governance.
Cost savings
Companies can save on paper and postage costs and resource hours by running virtual meetings due to the ease of creating and distributing digital board packs. The time it takes to create a meeting can be reduced from hours to minutes. Changing files and documents can be done instantly so that board members always have the most up-to-date information.
Convenience
Good board portals can be accessed anytime, anywhere, through a mobile app or desktop, giving members the flexibility to log on from anywhere and any device. By using the board portal, administrators and directors can work offline, for example, during travel or outages, and everything will be synchronised once they go back online. As a result, you save money on transportation and can use it for other purposes.
Quicker meeting preparation
Board members can access timely, up-to-date materials, allowing them to prepare for meetings, manage tasks, and collaborate in a central location. The information can also be accessed without searching through physical board packs or email threads. This saves time by providing a "single source of truth" on one platform.
Increased productivity
Using a board portal frees up users' time for more important tasks, allowing them to be more productive. With the board portal software, you will be able to make decisions with the accuracy you demand. You can find all the information you need using the search function in your files. This function also eliminates the hassle of physically scanning multiple documents to locate all the necessary details.
Better governance
Through seamless collaboration on board information and documents, directors can maximise their productivity levels and use their time best. The task-related functionalities allow users to track and address action items that require attention. From a macro perspective, this can enhance board meeting experiences and improve board engagement levels, two critical cornerstones of effective governance.
Strong security and access control
A good board management software also provides an additional layer of security. Board documents are sensitive, so platforms must use security permissions and data encryption to ensure robust data protection. Organisations can rest assured that global privacy and security standards are being met by a highly secure board portal, allowing resources to concentrate on other matters.
A board portal will enable organisations and boards to secure corporate data while maintaining complete control over the system. To maintain transparency on activities and revisions, the board portal sets permission controls and generates audit trails to grant access to board members.
The best board portals offer:
At rest and in transit encryption

The ability to control authentication and access rights at the granular level, including two-factor authentication and BankID

Protect against missing devices with remote wipes

An audit trail showing all activity

Security audits and penetration tests conducted by third parties, such as ISO 27001

Robust business continuity and disaster recovery plan that guarantees uptime
Paperless board meetings
Paper binders are heavy, costly to post, and eco-unfriendly. Not to mention, your board members cannot search for information as quickly as in digital documents. When you go paperless, not only do you reduce your carbon footprint but also improve document management.
Questions to ask your board portal vendor
First, you must evaluate your current board book solution and identify your pain points. This step helps you identify the "must-have items" in your new board portal. Remember, your board members may not be tech-savvy, so the ideal portal should combine practical features with simplicity.
If there are a few board portals that seem to meet all of your needs, how do you know which one is right? It is recommended that you prepare a list of questions to ask yourself during your research for a board portal:
How secure is the board portal?

Whatever technology your board uses, security is a significant consideration. To ensure that your board portal is secure, check that it implements state-of-the-art security measures that comply with your region

Is your new software easy to implement?

Are you going to be guided through the use of it by the vendor? You might be able to navigate your new platform with the help of support articles and other training materials they have on hand.

How responsive is their customer service?

In addition to initial training, you should find out if your vendor offers localised 24/7 customer service to help with any issues
Final thoughts
Regardless of your industry and organisation size, boards must rely on the same pillars of success, including good governance, compliance, accountability to stakeholders, and technology innovation. Board portals make the board meetings not only more efficient but also more effective.
Admincontrol is explicitly designed for modern leaders, enabling them to accelerate their board activities, make better decisions and save time both in and outside the boardroom.
To discover more about making your board and leadership team more efficient download our Ultimate Guide to Modern Board Efficiency: