Blog post by Monica Duyen Tang/Mari Nygård, Business Development Managers VDR in Norway

Here are three take-aways to keep in mind when you have a tight time-schedule:
1. Naming your project
Giving the project a code name will maintain secrecy and make it easier to communicate confidentially about the project.
A common technique is to choose a name from the phonetic alphabet that has the same first letter as the name of the target/company. And indeed, we see many Project Alpha, Delta and Tango etc.
On the other hand, giving your project a genuinely unique name makes it harder for eavesdroppers to guess the company involved. If you want to be original but lack imagination, you could always try out one of the many code name generators available online.
2. Building the data room in a secure data room solution
Choosing a secure and user-friendly data room solution is critical. A good virtual data room will save you time and get your deal moving forward.
In a data room you can use the following functions to make the process easier:
Simple uploading of documents and folders, with drag-and-drop support, to streamline the collection and organization of your documentation
Option to convert documents to PDF
A time-saving indexing tool to eliminate the need for manual conversion and document numbering before uploading
An easy and flexible way to define print and download rights for single documents or the whole data room at once
Reports that offer you a full overview of the data room's contents
We also recommend looking for a provider who offers access to dedicated client manager support, both during start-up and throughout the entire process, and is available to assist with all the necessary functionality.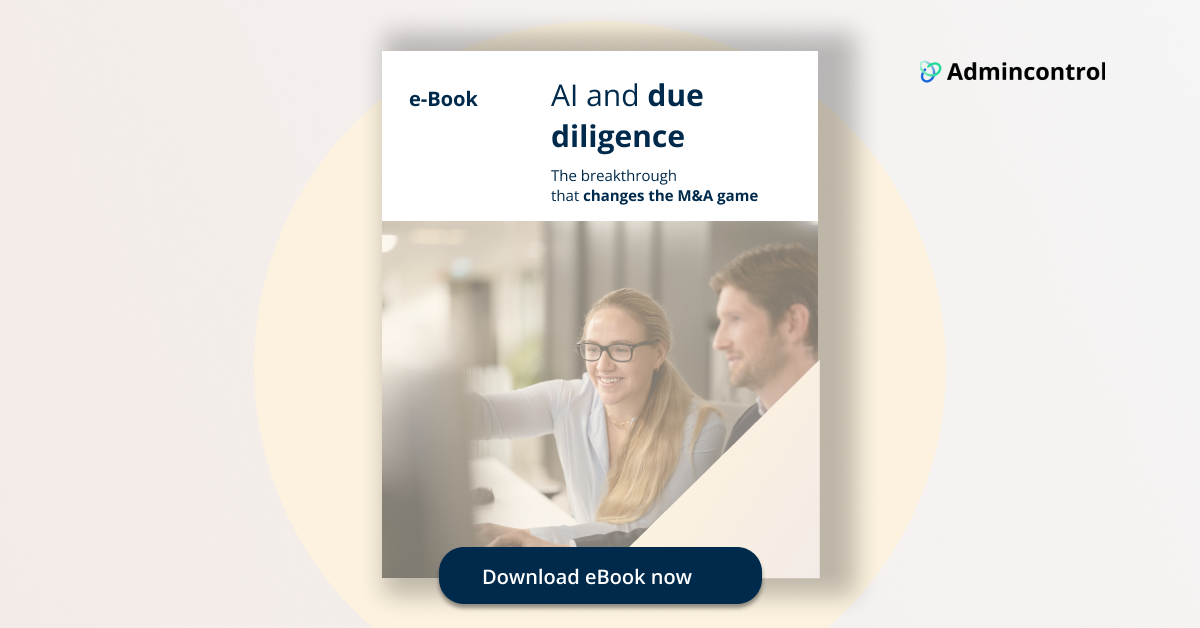 3. Giving external stakeholders access to the data room
When you are confident that your data room is complete, it's time to invite your potential buyers in.
Once you have opened your data room, you want to be able to depend on:
A full overview of permissions and access levels
Complete separation and anonymity between different buyer groups, if you are inviting more than one interested party into the data room
Easy to change permissions and access levels during the process
You need to have complete confidence that you are sharing the right documents in the right way with the right people at every stage of the process.
For more information about due diligence and data rooms, please get in touch with Admincontrol.