Problems with M&A deal-time delays
According to research by the analyst group Gartner in 2019, the average time to finalise a merger or acquisition has risen by more than 30% over the last decade. Gartner says this has been because of a range of factors, including increasing complexity in the deal-making environment, and growing scrutiny from governments, regulators and investors.
Are we going to see an even greater deceleration over the next decade, due to the impact of Covid-19? According to many commentators the answer is yes. This will be because of:
The time it takes to conduct negotiations
General cautiousness because of uncertain market conditions
Remote working and the lack of face-to-face meeting
According to one article in Forbes magazine:
"The impact of the pandemic is not just on the financial system generally, the valuation of sellers, and the appetite of buyers to get deals done in the short term, but on a multitude of other factors affecting M&A deals. These include deal terms themselves, new due diligence issues that have arisen, and the manner in which due diligence is conducted".
Data rooms combined with AI technology provide the solution
There is now a need for technology to intervene. We have already seen this through many of the other ways in which the business world works. Businesses have rapidly moved to remote working and digital delivery in response to Covid-19, adopting online collaboration and conferencing tools to make it happen.
Now the same needs to happen for the world of M&A deal-making – and in a sense this is already happening. Over recent years, virtual data rooms have already helped to transform M&A due diligence processes by enabling buying and selling parties to conduct due diligence processes without the need for physical data rooms. In this time of Covid-19, now more than ever is the time to take advantage.
More can still be done though to help speed up M&A processes. The answer is now available in the form of AI (Artificial Intelligence) technology than can be laid over data rooms to deliver intelligent, automated and rapid decision making.
At Admincontrol, for example, we partner with Luminance – a leading artificial intelligence platform for the legal profession – to provide a solution that is delivering a step change in efficiency and productivity.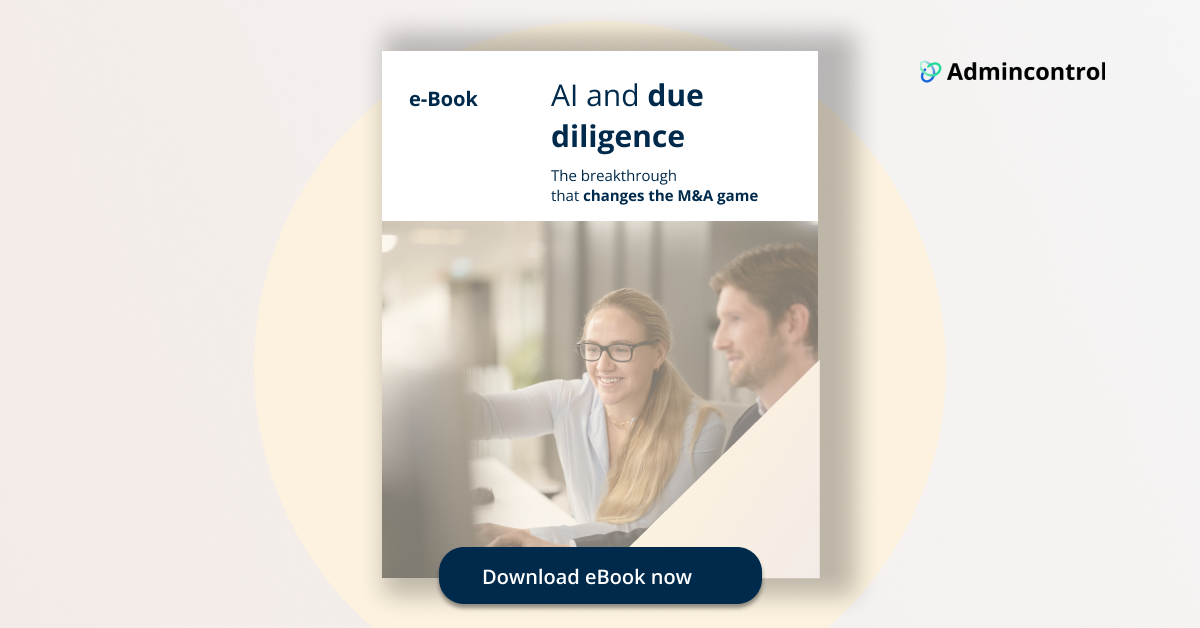 The solution works in three steps. Firstly, M&A lawyers transfer documents to be reviewed from Admincontrol virtual data rooms into Luminance. Secondly, Luminance analyses all documents with both supervised and unsupervised machine learning algorithms to read and form an understanding of the legal data. Thirdly, output from the analysis enables lawyers to quickly identify key information and potential critical risks.
This allows the lawyers to start their review in the most logical and efficient way possible – and the results can be truly outstanding.
How organisations are going to benefit
Teams that have already adopted AI for due diligence processes and M&A transactions have proved they can deliver truly transformative results, overcoming issues that have bogged down M&As for years.
For example, one of the longstanding issues with M&A due diligence is the time it takes to review thousands of documents. Typically, the volume of documents that need to be reviewed runs into thousands – at Admincontrol, for example, our data shows that users usually upload over 8,000 pages when they are setting up a virtual data room. This poses several problems for lawyers. It means the process is not only manual and laborious, but also ties highly skilled and experienced staff to repetitive, lower-value tasks when they could be focusing on providing valuable insights and analysis.
With artificial intelligence on board, everything is different. Suddenly it is now possible for individuals to move from reviewing between 50-100 documents an hour to over 3,000. In other words – they can review documents over 50 times faster.
With these savings in time, lawyers can also deliver projects at a fraction of the cost compared to projects where the document review process is carried out manually. One UK top 50 law firm using Luminance has reported an 85% reduction on review cost per project.
These results clearly demonstrate that data rooms combined with AI technology can deliver outstanding levels of performance and return on investment. As Gartner said when it released its research about M&A delays last year, "legal departments need new strategies for managing the associated costs while delivering due diligence and deal support in a timely manner".
AI is here and ready to provide the solution.