In this post, we look at the six most common questions we hear about the due diligence stage of the M&A process.
Q1: What is due diligence and why is it important?
Due diligence is a process used to evaluate the risk and reward of a potential deal. This might be acquiring or selling a company, merging with another company, or disposing of assets through a divestiture. The information gathered during due diligence should give a detailed picture of the target company's position and ensure all facts are known prior to a transaction being agreed.
Due diligence is important since it ensures M&A decisions are informed and balanced. It should reveal the degree of risk associated with a transaction and highlight red flags that might stop the deal in its tracks, or points for further discussion and negotiation. Many a deal lives or dies by this stage of the M&A process.
Due diligence involves the review and discussion of financial, operational and legal factors, but increasingly now includes environmental, diversity and inclusion factors too.
Effective due diligence uses a structured approach for evaluating the potential benefits of a transaction together with any associated risks that must be mitigated.
Q2: When is due diligence required?
Due diligence is required once a deal has been agreed in principle but before any contracts are signed or the deal finalised. The outcome of the due diligence period should determine if the transaction can go ahead as planned, whether any re-negotiation is required first, or if the deal should be abandoned.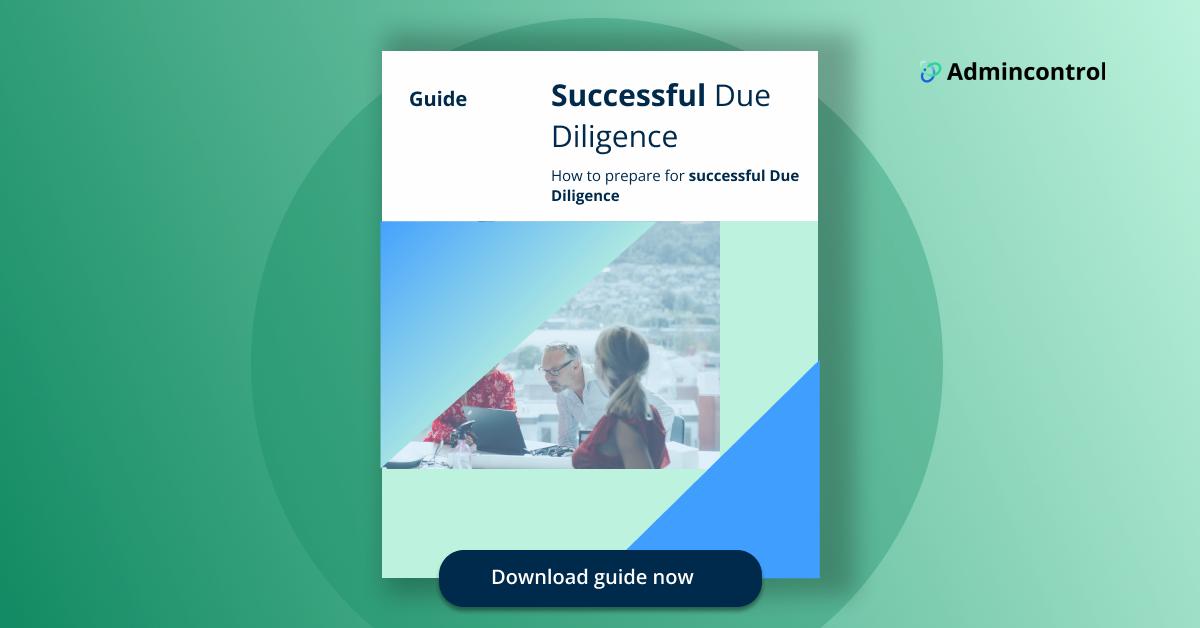 The length of time it takes to complete the due diligence process can vary depending on a number of factors.
Q3: How long does due diligence take?
Perhaps one of the most frequently asked questions, due diligence can take anything from 30 days to 6 months. The length of time will vary by company type, size and of course the complexity of the potential deal. Having the right mix of advisors and experts on the due diligence team is important to keeping timings on track.


Both sides of the deal need advisors and subject matter experts on the due diligence team, including attorneys, accountants and financial advisors.


Q4: What is a virtual data room used for?
A virtual data room, or deal room, is an online environment that is used to securely store, share and review documents and files in the cloud. Typically, data rooms are used during the due diligence stage of the M&A process, with the room containing all the documentation buyers and sellers need to review company assets and liabilities prior to a deal being closed, renegotiated or abandoned.
However, data rooms are also set up for other tasks including project management and fundraising. However they are used, protecting access to the often confidential or business-critical information uploaded to a data room is paramount. Encryption technology, two-factor authentication and other security measures provide the highest levels of protection, ensuring documents and files are only accessible by those with assigned permissions.
Q5: How do I set up a virtual data room?
There are 4 key steps to setting up a virtual data room:
Select your virtual data room provider

– there are many providers to choose from, so a sense-check of the pros and cons is important.
As a minimum, we suggest comparing:
Features and pricing
The size of data room (file storage requirements) you'll need
Security protocols and protection e.g., two-factor authentication and

ISO 27001:2013 and SOC 2 certifications
Level of ongoing support offered
Build and index your folder structure

– set up and index your folders ready for document upload. Some, like Admincontrol's

folder wizard, save time by doing the set up for you – just choose from one of the templated folder structures, or create your own.


Add users and set access permissions

–

data room

administrators should set permissions for all other users. Restricting access to specific documents or folders may be important as will controlling who can read, download or print information in the data room.


Upload documents and assign tasks

– it's now time to add documents and assign any reading tasks to the team. This can also be time consuming, so look for a data room with features to speed the process up, like Admincontrol's bulk upload tool. Plus a task management dashboard will make it easy to check on team activities and keep track of progress


A good data room provider should help you get up and running quickly, taking care of the basics and leaving you to focus on the deal itself.


Q6: How do I create a due diligence checklist?
A due diligence questionnaire, or checklist, can help the buyer-side to request the corporate and operational information needed, and those on the seller-side to track what they need to supply.
To create your own checklist, you'll need to include:
Financial statements, accounts, tax returns, assets and budget statements
Legal agreements, contracts, disputes, patents, trademarks and licenses
Corporate structure, governance, board members and board meeting minutes
Market share and position, competitors, products and services
Employee information, remuneration and benefits, organisational structure
For some documents like tax returns and accounts, you should request records for at least the past 3 years, and for others you'll want to understand forecasts for the future too.
For more information on how due diligence works, and how a virtual data room can support better processes and outcomes, check out our other blogs and resources.